Don't we all love a bit of comedy? Laughter is what it's all about and as I always say "If something is worth taking seriously, it's worth laughing at!" Greetings fans, it's been a crazy few weeks for everyone at N For Nerds HQ. With life and family commitments, it can be difficult some times to share content we have lined up or want to work on but let's get back at it. This time it's all about Beans and Tucker!
Recently, I attended a family wedding and I'd just like to say free pints of Smithwicks are a bad idea if you haven't eaten but I digress. The day of the wedding, I was suited and booted and ready to rock. We get the mass over us and head for the hotel. I acquire my first pint of Smithwicks and start my Bee Gees walk. To the left I see a man drawing caricatures, I'm thinking "oh yea, we'll be having some of that!"
I introduce myself to our caricaturist John Farrelly, at the time not realising this was the man behind the comic Captain Wonder! The premise of Captain Wonder is about the main character Charley Winkle and his comic book store. The store runs into financial difficulties so he formulates a unique plan to save it – become a superhero!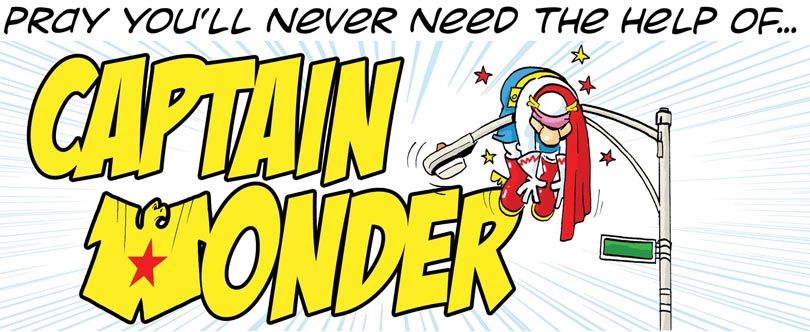 We get talking about technical stuff, graphic design nonsense and a bit of craic thrown in there for good measure. While the wizard was at work I asked what was in the pipeline and what's he excited about in the comic world. A response I didn't expecting to hear, John said "well I have a comic that will be used for an exhibition at this year's Belfast Comedy Festival, for the comics-related exhibition."
Wait, stop! You have a comic that's going to be on exhibition, in Belfast? Why am I only hearing this now? Probably because we've only just started chatting you say? Ahhh touché!
What's being used for the Exhibition?
It's for a comic called Beans & Tucker which I plan to release shortly as individual pages weekly on Facebook then collected as a black and white comic, then as a special edition coloured comic or TPB. John isn't the only artist whose work will be on exhibition, it will also feature the work of Indie comics creators such as Davy Francis, Paddy Brown, Rose Haghighi, Mark McCann and Andy Luke.
What's Beans & Tucker about?
The story is about a tortoise and a snail that are NOT wanted for a crime they did not commit. Absolutely no-one is after them and the supposed crime exists only in their imaginations, though there are various "bad guys" they meet along the way. Beans (the snail), is a feisty, fast-talkin' Snail-of-the-World-type but is entirely clueless in reality. Tucker, (the tortoise), is a gentle soul and much less street-wise and naïve than Beans. Their "git-away" vehicle of choice is a skateboard they call "THE BEAST".
N FOR NERDS EXCLUSIVE
With a lot of gentle persuasion, John very kindly gave me some exclusive images of Beans and Tucker, which will be used in the exhibition so there we are folks, an N For Nerds Exclusive look at John's Exhibition, check it out:
Tell me about the style of Beans and Tucker
So the style of Beans and Tucker is a bit experimental. (Whereas Captain Wonder was partly made on the computer with the line work scanned in, then coloured in Photoshop, along with the panel borders and lettering. It has a much more commercial feel) So Beans & Tucker is the most "free" drawing style I've ever employed in that I purposely never used a ruler and did all the lettering by hand, so it has this wonky, home-made feel to it. It's like jamming, but with comics, and I just love doing it.
What inspired you to create Beans and Tucker?
Incidentally, Beans and Tucker originated from my career as a caricature artist. If someone in a caricature liked fast cars, I would have this snail riding on a tortoise's back riding on a skateboard overtaking them, as a way of taking the piss! I've added Beans and Tucker to caricatures as "sightings" and one day, I thought, they'd make good characters in their own strip so I gradually thought up their backstory. Take a look at some early appearances of Beans & Tucker:
For full details and exhibition dates, check out the Belfast Comedy Festival 2017 website. If you are attending the event, please be sure to swing by and say hello to John and let him know where you heard all about Beans & Tucker and Captain Wonder!
Be sure to check out John on Facebook as well as Captain Wonder on Facebook! And of course, if you haven't already, head on over to N For Nerds' Facebook Page and Like & Share with your friends.
You're probably all wondering how the caricature turned out of yours truly? No?! Well you are gonna see it anyway because it's just fantastic. I particularly like how John took about 2 stone off me in the caricature!