5) Crash Team Racing Nitro Fuelled
My first choice was an easy one. Although 2019 hasn't been a great year, with only a handful of big releases, there is comfort in revisiting the classics that are brought up to the modern age. This brought back some very good memories, and getting to see a game from my childhood get a new paintjob for current-gen consoles is certainly a treat.
There is a lot of replayability and customisation available, whether playing alone, online or locally with some friends. Being able to win bragging rights from a race you have won over a decade ago and being able to repeat that success is definitely something on my bucket list.
(Once more many a younger sibling will be relegated to "Player 2" in the name of Crash!)  
4) Call of Duty Modern Warfare
I am not an angry 12 year old American that sleeps with the mothers of other players, but I enjoyed this a lot more than I anticipated. Even I am surprised this has a seat on the table, but my wife bought this for me a day after our wedding so I couldn't say no, and I'm glad I didn't.
The visuals are amazing, the sound of each shot is satisfying to hear, and with so many modes nothing is ever tedious or repetitive. There is plenty of customisation, a short but fun campaign mode, and some new mechanics/playstyles that help add some new layers to the classic FPS gameplay.
(Oh my! The facial hair!)  
3) Jedi Fallen Order
A very recent release, but a very important one. It tells an excellent story and borrows elements from other games to make a single-payer narrative that may restore EA's investment in offline games. It is new and refreshing but still feels like old-school Star Wars, and looks good in any collection.
As a big Star Wars fan I wet myself over and over again with excitement in getting to construct my own lightsaber, choose the colour of the blade and just "shzoom shzooming" for hours on end before carrying on playing. I also heard news of a second one on the horizon.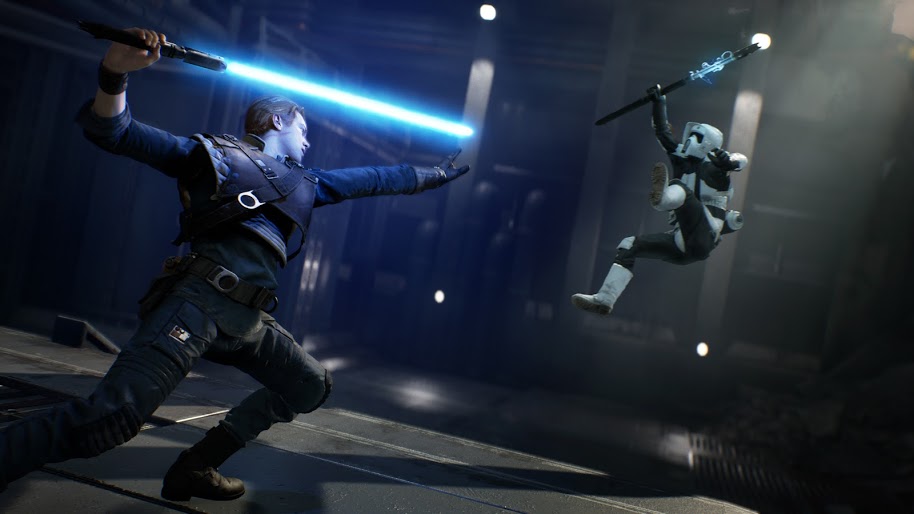 ("Yeet!")  
2) Days Gone
The winner of two Golden Joystick awards, and a game that was underappreciated by critics, I give my next spot on my top 5 to this amazing PlayStation exclusive. I picked this up recently after doing the wise thing an ignoring the critics, and I never looked back on that decision.
An open world, with zombies, a cool and fully customisable motorbike, with guns and a very engaging story. This has been a joy to play so far, with such amazing attention to detail and very good graphics and facial animations. Do not underestimate the value this game can bring.
(Classic shooty-bang violence!)  
1) Sekiro: Shadows Die Twice
An easy choice to make for my top 5, a game that had me enamoured and enraged from start to finish. With excellent combat mechanics, stunning environments and more, I would  even say this has been my favourite game of the year, and it even won the GOTY award for 2019.
When I thought of a top 5 this was the first game to enter my mind. It had gore, difficult but rewarding fighting mechanics, varied bosses and enemies and a cool Japanese setting. Being a kickass, unkillable ninja was just what I didn't know I wanted.
Well, those were Jude's Top 5 Video Games of 2019, can you think of any that should've made the list or just disagree? Let us know in the comments below, don't forget to follow us on Twitter, Facebook and subscribe to our YouTube channel and if you're feeling generous feel free to donate to our Patreon, thanks for reading.