This week, N For Nerds had the pleasure of interviewing Muse Games Community Director, Matt Hartman. Gerard and Marty got chatting with Matt about their upcoming massive online multiplayer game Guns of Icarus: Alliance.
We got to chatting about how Guns of Icarus: Alliance is unlike any other online multiplayer game right now and just what they had to go through to get it to market. Through a hurricane and an office fire, it's a whirlwind that would rival any comedy drama you'd see in the cinema.
Tell us a bit about yourself and your role with Guns of Icarus.
I am the Community Director for Guns of Icarus. It's kind of a catch-all term; I do everything from making specs to reaching out to you guys as press, finding out what players want in games, testing to gathering data.
Tell us a little about how Guns of Icarus got started?
In terms of how Guns of Icarus started, the original idea came from the mounted weapon section of games like Call of Duty where we thought "aw, we're giving you the biggest gun in the game to blow stuff up and 2 minutes later you're like, okay you'll never touch it again, you're done!"
With this in mind we wanted to think of a way to say "well, how could you always have those big guns and have all those great experiences, create these big intense fights by just covering these giant airships in guns?"
For the repair game, our biggest inspiration was Diner Dash, it was this idea of time management and trying to balance you know, keeping engines alive and keeping the balloon up and not crashing to your death! 4 years ago, we went through all that. We went through a crazy process with our base game and we released it and then after that we wanted to make it even larger. We wanted to add a huge PvP element and basically make the next title, Guns of Icarus: Alliance, which is released on March 31st 2017.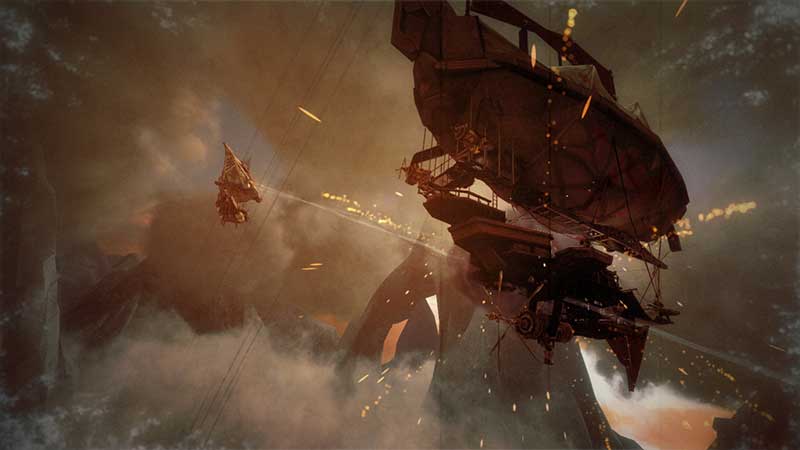 What inspired you to create Guns of Icarus?
It's really more like sections of games that inspired us, for the steampunk aspect it was using games that really work like when we first released, it was BioShock. We felt like it was an area that we could really expand upon and in the new co-op release we get to expand upon, not just the Victorian era but moving into different factions that have different back stories in different parts of the world like mainland China, Japan and even into feudal Europe.
You've told us about your role and it sounds like you do, pretty much……everything! Was it a small, close knit team or were there just a lot of people doing everything?
Yeah so there are 10 guys in the office and we definitely, all do a bit of everything. You know the art guys do more art, the programmers do more programming but everyone pitches in and picks up the slack wherever we can. It's a small team, you just don't have the luxury of saying "oh, that's someone else's problem!"
What was your biggest challenge from start to finish?
There have been a lot of challenges along the way. For releasing the base game, we released it during a hurricane! And we actually had to send someone out on a bike to the office to get the server so we could update it because something was broken. Before that, we had an office burn down in flames and before that we had a publisher threaten to steal our IP. He basically said "hey, if you don't make it more anime, and a whole bunch of other stuff we are going to cancel your contract, copy it and we are going to do what we want to do!" so just to get the base game, we have literally fought Hell and high water.
For alliance, the biggest thing we had to conquer was our own ambitions. We wanted to do so much with PvP, co-op and team gameplay, the list just got bigger and bigger. What was sort of the idea of a DMZ, it's turned into Guns of Icarus II, which is the next product in the line.
What sets Guns of Icarus apart from other online multiplayer games?
The biggest thing is teamwork; there is the ultimate teamwork experience for us and that was our goal throughout. It's not like other multiplayer games where you pick up a sniper rifle, hide in a corner and kill everyone yourself. It doesn't matter who's in your team, you could be the best Captain in the game but if you don't have an engineer or a gunner firing, working with your team to be on the correct side, keeping your airship on the right track and keeping the guns on the airship in operation, you're screwed. That's what sets us apart, that ultimate teamwork experience! Everyone working at 100% to create that intensity in the game is what you won't find with other online multiplayer games.
Do you have any plans to take Guns of Icarus to the competitive area of gaming i.e. eSports?
It is something that we've looked at and have been interested in; we've had a bunch of tournaments here in the States in the 4 years of the base game being out. eSports is definitely something we are interested in and we definitely have players who are SUPER PASSIONATE about the game, the amount of hours clocked up on training alone for some of our players is just amazing! When we first made our spectator system, they went through it and said it was terrible; they gave us what I can only describe as a 'Manifesto'! It was like 14 pages of "okay, here's what you need to do!" and we implemented all of it. It's definitely benefited our streamers when they do tournaments and really take advantage of being able to see the health there and having quick tools and all of these things.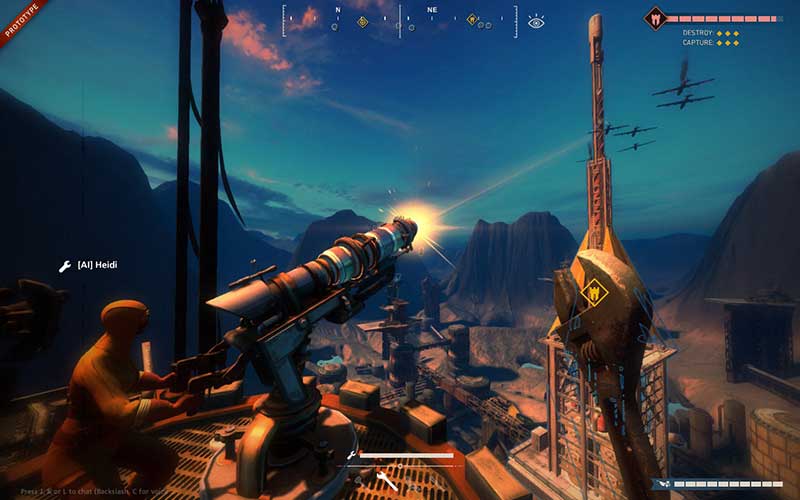 So you are expanding the story, not just the online multiplayer aspect?
Well the story is multiplayer, so basically players will be fighting against an AI Director, sending hoards and armadas against them and how well they win in those matches will affect the world map. Imagine like MMO Risk, you decide where to attack and defend and where to send troops, build walls and more and they'll be doing this against everyone else.
Have you always been a gamer?
Always from a young age, the first console I had was a Sega Genesis at aged 2! My dad was a huge nerd as well, so I was doing everything from Command & Conquer to Total Annihilation and even Delta Force. You know, a normal kid plays Lego Island Dogs so that's the sort of upbringing I had, I have been a Nerd from a very young age!
What is your favourite Game/Console?
I have to say, I liked a bit of everything. The Sega Genesis gave me a lot to start with, you had everything from Lethal Enforcer to Sonic to Comix Zone and more. So many different styles but I don't think I'd ever tie myself to one system. A game I would always go back to and love playing still is Super Smash Bros, definitely a game I got super into growing up, that and Diablo II. I'd say those were my most defining games.
Beyond Guns of Icarus, what other projects are you working on?
We're starting to spitball in the office, throwing some ideas out there. There's a couple of things we are looking at but nothing is set in stone yet, it's been 6 years of working on Icarus and everyone loves it but we definitely want to see where our creative ideas can take us as well. For now we are focused on Guns of Icarus: Alliance.
---
Guns of Icarus will be released on Friday 31st March on PC, Mac & Linux. For more information, head on over to their official website. Also, don't forget to subscribe to our YouTube Channel for our upcoming Let's Play series, it's gonna be awesome, you don't want to miss it!