So I recently bought a PS Vita slim, Sony's current handheld gaming console, and I gotta say it is fast becoming my favourite system to game on. I've spoken to a few friends about how I'm loving it, but they all say they've never used one or they didn't think it would be worth buying, but let me tell you, it is. So here are my 5 reasons why it's worth owing a PS vita.
(1) Raw gaming power
The PS Vita is the most powerful handheld console on the market, with its quad-core processor, quad-core GPU and with the systems OLED (organic light-emitting diode) screen, games look bright, vibrant and just plain gorgeous.
(2) Great Library
There is a great library of games currently available on the vita, such as Dragon's Crown, Persona 4, Tearaway, Gravity Rush, to name a few. Not to mention some of the HD remasters for older games that are available, such as Final Fantasy X/X2, Metal Gear Solid 2&3, and Grim Fandango, honestly I could go on all day about all the games available. And the good thing is that they're reasonably priced, you can get most for under £10, not to mention you usually get a free monthly game for Vita if you're a PS Plus member.
(3) Indie Scene
The Vita hosts some of the highest-rated and most loved Indie games that you can play on any gaming platform, and I believe that establishing a relationship with indie games was probably one of Sony's smartest moves as a games company. It allows for a bigger games library for the vita, meaning that in-between AAA releases, there are still new indie games coming to the system. Also indie developers can now reach a wider audience and with indie games tending to be cheaper, the consumer gets the most out of their console and their money.
(4) Remote Play
So, remote play basically means that you can stream your PS3 and PS4 games wirelessly over the internet to your PS vita, to be honest I didn't see the point of this until my fiancée kicked me of the TV to watch Netflix and I realised I could still play Bloodbourne on my Vita. It's a fun function to be playing PS4 games in bed I must say, and it speaks to the nerd in me.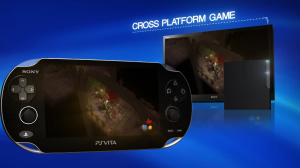 (5) Portable
The Vita was made for gamers on the go, and it's great for casual sessions, like the train commute to and from work, or massive gaming sessions, in the flat in your pants. I love getting the train into the City now, because it means even though I still have to do errands like a stupid adult, I never have to stop gaming. Thanks, the future.