Tales of The Fractured Mind
The human mind, a power tool, as delicate as glass and no two the same. "I think therefore I am", an often-used quote from Rene Descartes and to that effect I will tell you what I thought of Tales of The Fractured Mind.
Before the comic section of Tales Of The Fractured Mind begins we are given a glimpse into the mind of the writer, it is an honest, raw and personal opening that gives the reader the impression that they are being spoken too directly.
The first comic (The Persistence of Depression) we come across is beautifully illustrated, all-encompassing darkness meets contrasting light, a balance held together by words not of wisdom but of reality. Weaving a tale of wanting from a young man called Jay who deals with being wanted and watched by his own mind, if words carried a physical weight this one will hit you like a ton of bricks.
The next story, entitled "Clock of the world", tackles in a realistic manner, the attempt by our own minds to control the time we have, and how we can spend it. How we try to hold on to the sand, that at times, slowly falls through our hands, or how we try to let go of the slow-moving gravel that weighs us down. The illustration complements the narrative perfectly, and while reading I didn't even notice the time pass.
My Third venture into "Tales of The Fractured Mind", was beginning to feel more like I was not so much reading a comic book, but perhaps delving deeper into parts of my own mind, like these words and drawings were made for me.  "Just like everyone", is centred around acceptance, from our social interaction to how we feel society looks upon us.  Eyes that never close, whispers that never silence and a mind that never stops. The artwork for this piece is striking as it shows how barriers in our own mind can stop us from getting help and perhaps that sums up this piece very well, it is an SOS from ourselves.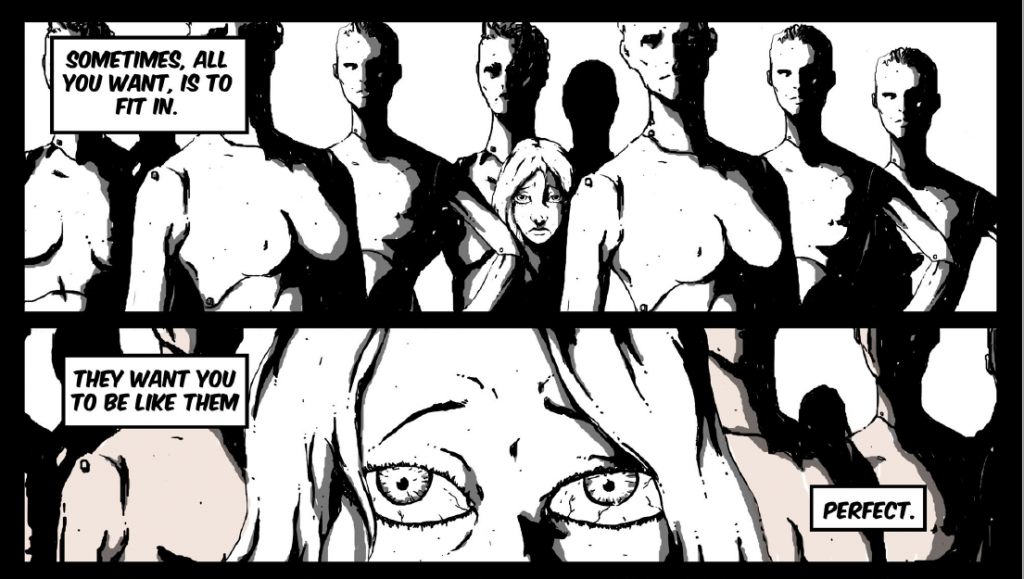 These three stories are just the tip of a psychological ice berg that conceals a lot more below the surface, from the musical hope played on the minds string in "Our Song", to the trek embarked on when reading "Mountaineering" and the feeling that I was looking in a mirror while the words and illustrations of "Caitlyn" take you through a journey of your own mind that is real, open, honest, beautiful, dark and many more things that you may feel as a reader.
This Collection tackled the issue of mental health, which is no easy task for a writer or reader, along the way I looked not only at illustrations of a writer but of a reader, I felt time in a physical and mental state but let it pass. These stories will make you think and there for you are.