I played Unpacking over the Christmas holiday in what was probably the most fitting environment. I was staying with my parents, back in my childhood bedroom, sharing with my sister, and surrounded by all of my old university books, CDs and posters, the kind of stuff I couldn't squeeze into my own place but felt too attached to throw away.
That's pretty much what Unpacking confronts you with. You're tasked with putting away the belongings of an anonymous female character as she moves through the various stages of life. Though, as the game goes on, this person becomes less of a mystery as new items pop out of various moving boxes at each new home you arrive at, and the same ones reappear no matter the milestone, to give you a better understanding of her life and loves; she's an artist who collects figurines, and her childhood cuddly toys are always close by.
Unpacking will take you just a few hours to finish but this simple puzzle game manages to squeeze a lot of detail into that short space of time through a succession of colourful, pixel art environments. The first is a childhood bedroom with a small collection of items, but over time you'll go through eight major life moments such as moving away from home for the first time, first loves, and first break-ups, picking up new trinkets and discarding old ones along the way. It's admirable just how much narrative the creators have managed to get across through such a straightforward, quiet concept.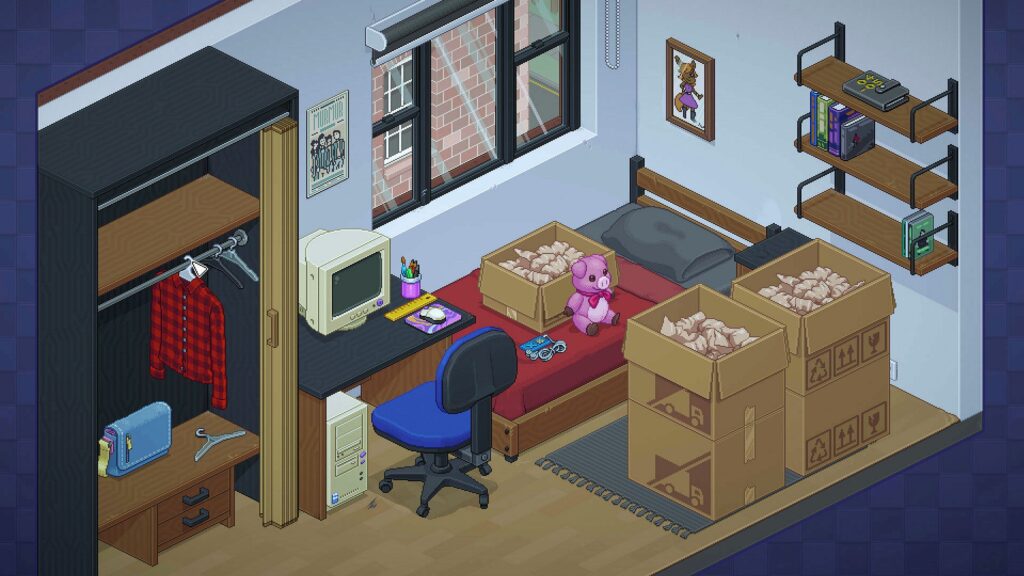 As you progress, areas get busier and more challenging as you try to unpack her belongings into shared spaces, some more welcoming than others, and while the player has the freedom to unpack however they choose, there are some items that have a specific home which might take more consideration – like an old photo of a happier time that might be too difficult to look at every day. The precision of some item placement can detract from the zen feeling ever so slightly, like when you're trying to find a spot for that rogue shoe that somehow ended up in the box with your kitchen appliances, but Unpacking is mostly a game you can take your time with. There are no points to be earned or times to beat, though there are stickers to be collected for ticking off hidden bonuses, like powering up the adorable Gamecube style console when placed underneath the TV.
The style of Unpacking is charming. It immediately feels comforting and the beautiful pixel art aesthetic means even the smallest of items are instantly familiar – albeit sometimes fiddly to handle when using touch controls on Nintendo Switch. A photo mode also allows players to apply different filters and capture their favourite moments, which can be documented in an album.
Opinion
I really enjoyed my time with Unpacking. Not just because I like organising things and home decoration sims, but because it surprised me with how much story it was able to convey without using any dialogue, save for a few scrapbook notes, but purely through the sorting of things, and the overall feeling that certain environments presented – some are cosy, others are cold. For £17.99 via Nintendo eShop (it's also available on PC and Xbox), I'd recommend this to anyone looking for a thoughtful, relaxing puzzle game that you can pick up and put down with ease.