Shadow of the Tomb Raider: Definitive Edition
The Tomb Raider community hasn't been the most fun to be around lately. Earlier this year when a mysterious eighth slot appeared in the Shadow of the Tomb Raider DLC menu after only being promised seven, fans were excited and then disheartened by a suspected Croft Manor based level that never materialised. To make matters worse, just last month, an audio file began floating around, supposedly from this scrapped add-on, showing voice actor Camilla Luddington reeling off some very Croft Manor-like sound bites: "I wonder where Winston is with my tea?" for example, was hardly intended for the Peruvian jungle.
("Here's your bloody tea…Mam!")
Add to that Crystal Dynamics' apparent snubbing of the franchise's recent 23rd anniversary and you've got a lot of angry fans Twitter thread-venting their frustrations. To be fair to Crystal, 23 is hardly a major milestone but ask me again at 25 years if all we get is a loosely classic outfit and tumbleweeds…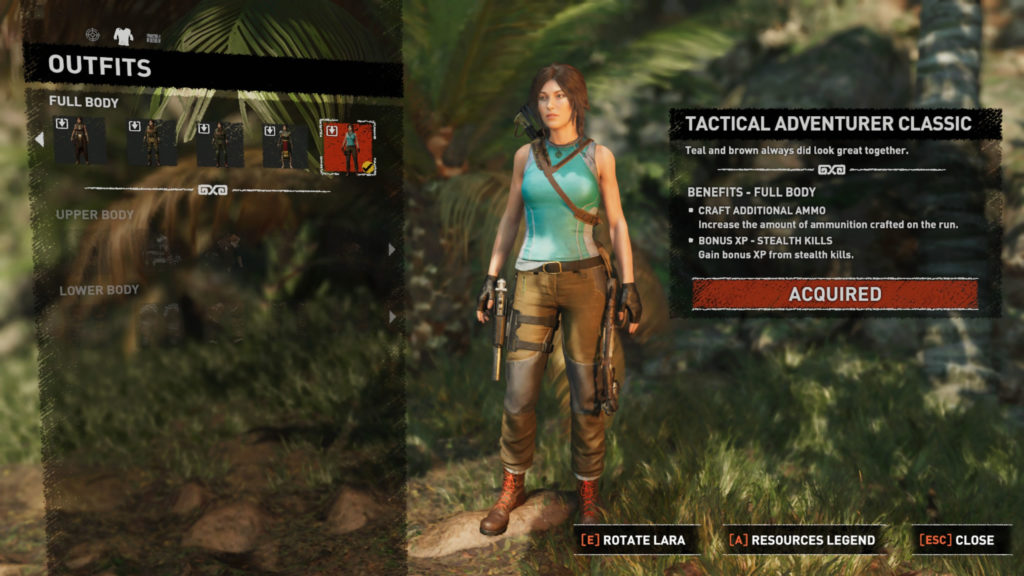 Speaking of outfits, last week Shadow of the Tomb Raider: Definitive Edition was released for PS4, XBOX One, PC and soon, Google Stadia, featuring the full game and DLC complete with new cover art, a brand-new outfit (more on that later) and for anyone who splashed out on the Season Pass at launch … oh no, it's just the outfit. *Shakes the box a little harder*. No, still just the outfit.
It's not uncommon to get a so-called definitive edition packaged with all DLC around 12 months after a game launch. We saw this with the first of the reboot series when Tomb Raider 2013 was scaled up for next generation consoles, and the follow up Rise of the Tomb Raider received some nice 20th anniversary packaging with a mini art book thrown in. It is, however, somewhat disappointing to box up a game with DLC, which most hardcore fans would have bought just a year ago and offer nothing but some new clobber.
Nit-picky frustrations aside, if you haven't played Shadow of the Tomb Raider yet, this is the optimum time to do so. Bundled with all seven pieces of DLC, which were originally released in monthly hour-long instalments each complete with new challenges, outfits, weapons and skills, you now have access to all the crumbling landscapes and ancient mechanisms you could ever wish for.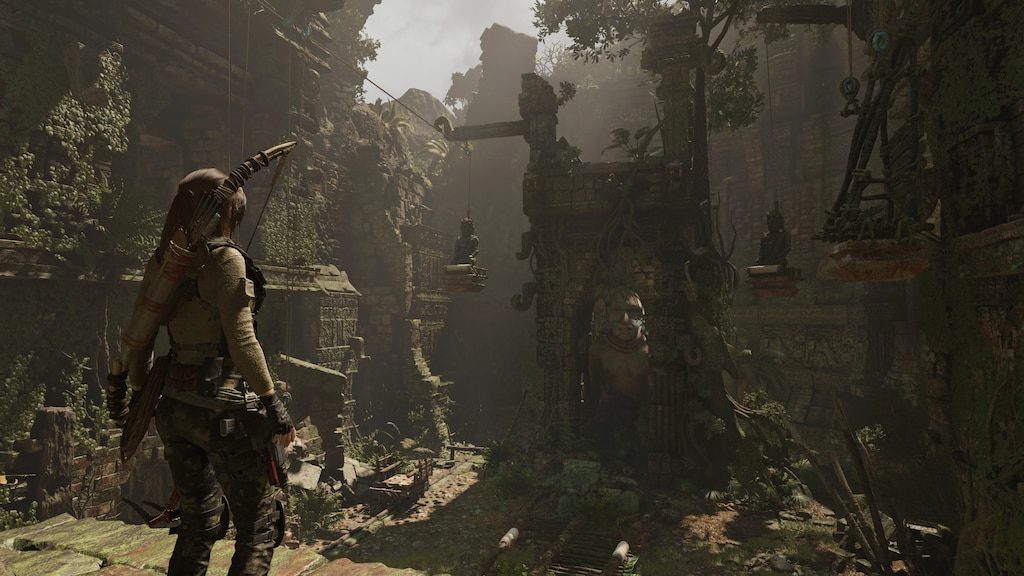 ("I should've studied theatre like Winston suggested!")
Admittedly, Shadow of the Tomb Raider didn't quite get the fanfare its predecessors did, partially down to being outshined by the successful Spider-Man PS4 exclusive which came out the same week. But that's unfortunate as Shadow is a bloody good game, worthy of your attention and I'm glad this Definitive Edition exists to give new players a chance, and more reasons than ever before, to experience it. Lara's world has never looked better whether you're slowly making your way through a Day of the Dead festival or traversing lava-filled caverns. The adventure is well paced due to a satisfying mix of gameplay including a more relaxed puzzle-based level which takes you back in time to a fan favourite location, and I got actual chills seeing Lara rise from the dark waters before taking down nothing short of an entire village of enemies on a flame engulfed oil refinery. It's probably the closest we've gotten to classic Tomb Raider since the series was rebooted thanks to a higher dosage of animal and mythical enemies and level-spanning puzzles.
("Oh boy, here I go killing again!")
The environments you're faced with are breath-taking. On several occasions, say when you're busy grappling off a cliff side, the camera will pan out to reveal a stunning, incredibly detailed landscape that you wish you could take a real photo of. The game's photo mode comes in handy to capture those glorious moments (or later on if you fancy a selfie with a llama).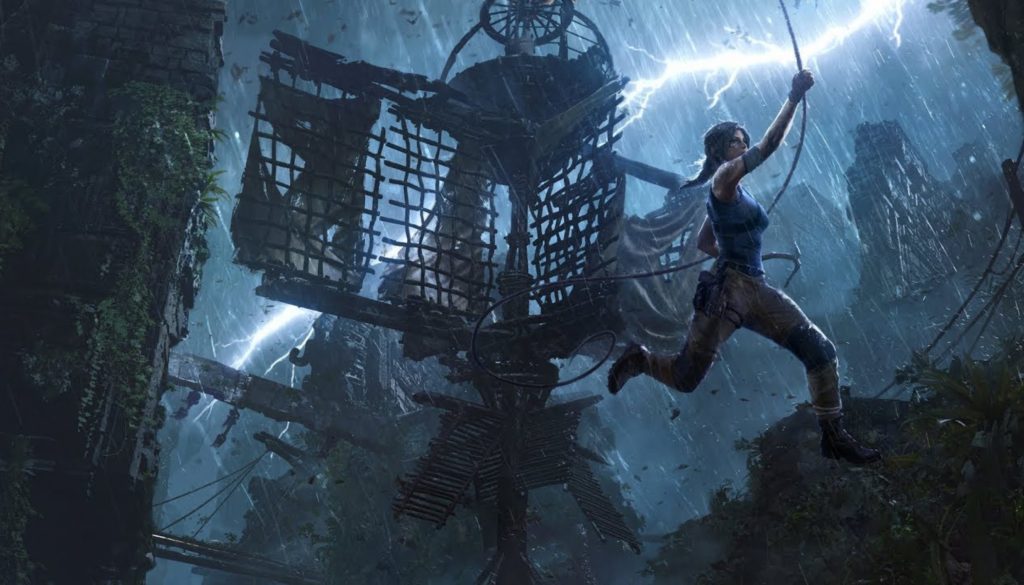 ("Oh yeah, this one's going on Instagram.") 
Since the series was rebooted, fans have been crying out for more puzzles. The game addresses this with a healthy amount of challenges both imperative and optional, and honestly, some of them are pretty taxing. The compromise is less combat which I for one am thankful for. The gunfights were super heavy in its predecessor with countless streams of enemies to mow down which, to me, never made much sense; Lara's an archaeologist, not a mercenary.
It's also the first time we see Lara, perfectly portrayed by Luddington, truly question the implications of her tomb raiding, which in this case are catastrophic, as her exploits set off the Mayan apocalypse. At times, this does venture into self-indulgent self-reflection, but I'm pleased the developers decided to address an overarching theme that has existed since Lara's adventures began.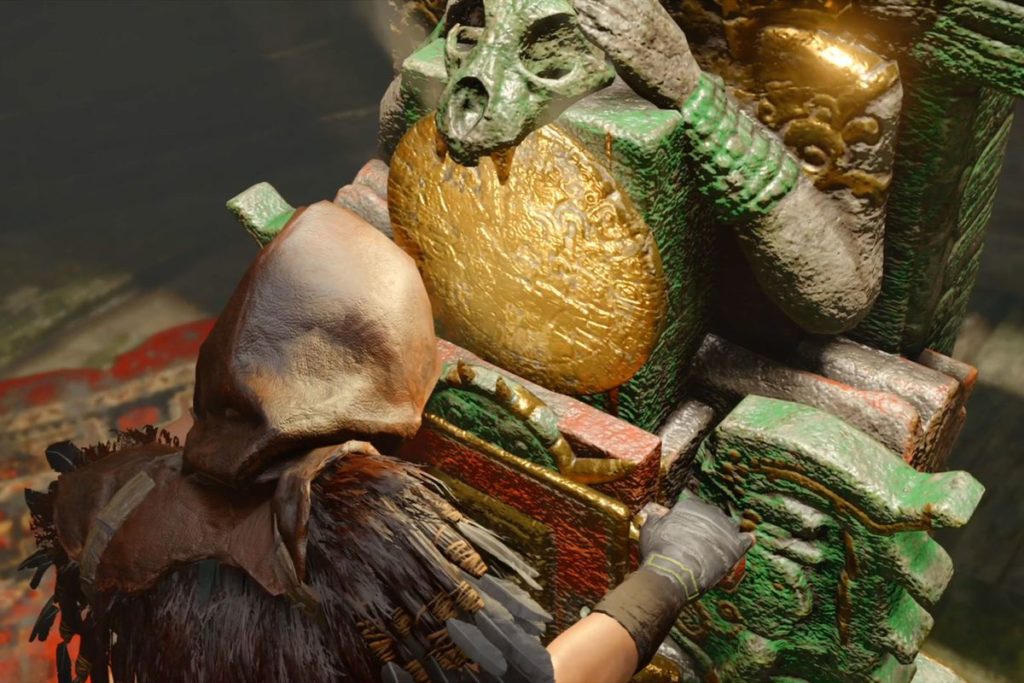 ("All the murder has been worth it for this vague treasure.")
You're also encouraged to do more role playing, interacting with NPCs in some heavily populated locations. While I get that the point of having these conversations is to reinforce that your actions could have consequences for those around you, much of the dialogue doesn't add very much to the story and for those that give you tasks, I didn't always feel compelled to complete them. It's also not helped by the disorientating choice to have Lara converse in perfect Queen's English while NPCs speak in local dialects.
("So….hot enough for ya?")
For that one new piece of content, the good news is, the team have listened to another major complaint from fans with regards to one of the game's annoying mechanics. Despite being able to unlock around a dozen different outfits, for a large part of the game, much of Lara's adventure gear is unavailable as certain areas require Lara to wear what the game refers to as tribal outfits. Narratively, it makes sense; Lara looks a lot less suspicious wandering around a village in local attire as opposed to combat boots but the necessary wardrobe changes always felt like a hindrance – why bother unlocking stuff if you can't use it? In the Definitive Edition, players now have the option to remove this restriction. Hurrah … but only if you've 100% completed the main story. I first completed the game at around 67% so you're going to have to find your inner completionist if you want to rock your leather jacket to the local temple.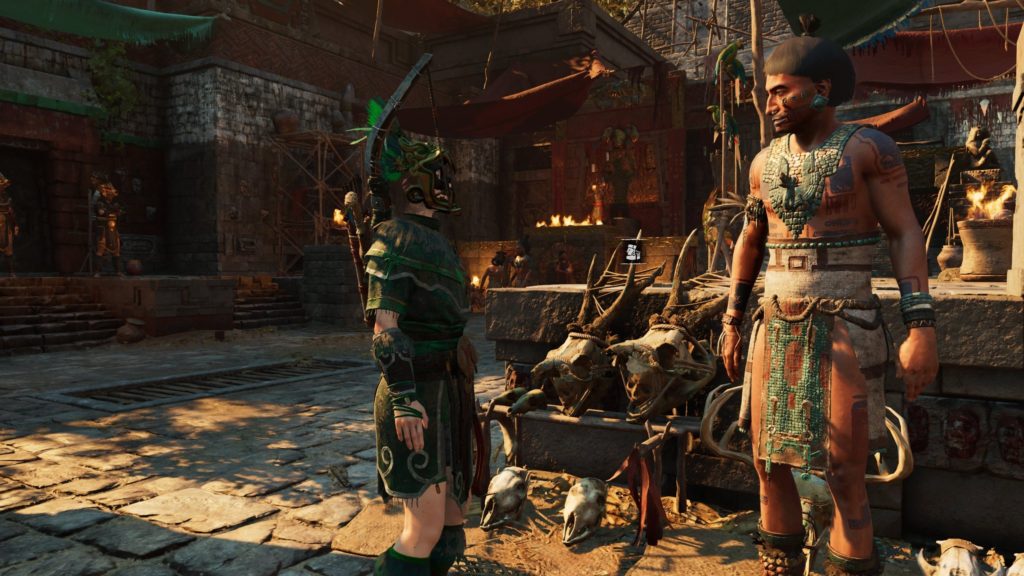 (Master of Disguise!)
The outfit itself, you could argue, either offers a bit of much needed fan service or puts more salt on the wound. The "Croft Fitness" outfit pays homage to Lara's training gear in the original 1996 Tomb Raider title with classic black joggers and tank top. Though it won't be enough for some fans, I fully support this subtle nod to Lara's origins. I don't ever expect like for like replicas of previous generation outfits and this one ticks enough boxes to make my inner eight-year-old's heart sing. Honestly, try running around Shadow of the Tomb Raider in one of Lara's retro skins and you'll quickly realise how ridiculous it was to ever put this seasoned adventurer in short shorts in the first place. To go back would feel incredibly forced and I think that the optional classic-style green tank and brown combat trousers combo released earlier this year does the job does fine. That said, I did enjoy having her original looks as a playable option; they're fun for a short spell if you can get past the jarring contrast in graphical fidelity.
Opinion 
Owners of the season pass will be able to manually upgrade to the Definitive Edition while the original Season Pass has been replaced by a Definitive Edition add-on. Right now, the complete package is priced at £49.99, which for a lengthy game with a more than generous amount of additional content, is well worth jumping into.