A while ago I reviewed Mantis Burn Racing, a top-down racing game brought to us by VooFoo studios (check that review out here). Since then however, VooFoo Studios has released new DLC for Mantis Burn Racing, "Snowbound Pack" and "Elite Class", well we were lucky enough to get sent a review code for the new DLC and here's what we thought.
Gameplay
The Gameplay remains largely unchanged, it's still a fun racing game set in a top-down environment and in order to win your car must be ahead of the other cars…not particularly nuanced, but what do you expect it's a racing game.
Snowbound DLC Pack
The new Snowbound Pack will be free to download for everyone who purchased the original game, which I think shows that VooFoo Studios have a great deal of respect for their customers. The Snowbound pack brings a new winter themed race environment to the game, featuring four new tracks. But unlike most free DLC this isn't purely cosmetic, the Snowbound Pack significantly extends the game's single-player campaign by adding season's two and three of the Veteran Class career, giving players 34 more events.
Having played the Snowbound levels I can say that they really do feel fresh and bring a new style of gameplay to Mantis Burn racing, that will add hours of fun.  The fact that this was released for free shows that this was a move made out of a love for gaming and not a drive for profits.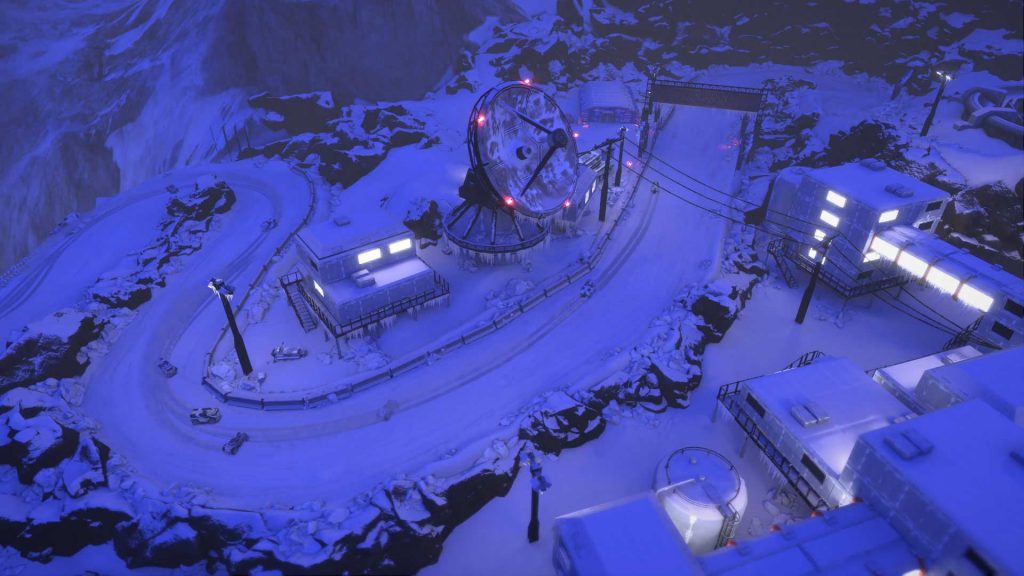 (They should've added dog sleighs)
Elite Class DLC pack
The new Elite Class DLC pack adds a brand-new class of three Hover vehicles that come with their own 12 event 'Elite' career season that is unlocked immediately. But before you go thinking it's just a new track and some new skins for cars hold on, these new hover cars float above the ground making them less affected by the tracks' surface, meaning they add a whole new play style, allowing the player to go back to previous tracks with the new cars and have a whole new experience.
I personally suck with the new cars, but that shouldn't stop other players from enjoying this DLC, while you do have to pay for this one, £1.99 is well worth the price, especially when you get the Snowbound DLC for free.
Opinion
Both the Snowbound and Elite Class DLC packs are enough on their own to make you go back and dust off Mantis Burn Racing, but put them together and you get hours of new gameplay and a whole host of new challenges, well worth the price.