Siege Survival: Gloria Victis
It took 8 days for me to fail, well, that isn't entirely true, I failed on the first 3 days and rolled the proverbial pebble that turns into a landslide. My hubris led me to think that things couldn't get worse than they were but alas, they did, a combination of supply mismanagement and a serious lack of food meant that my main guy, Flint, died of starvation on Day 8 and another on day 10 as I forgot to build a torch to burn Flint's body, which was currently stinking up the bedrooms and made the rest of the party diseased when they slept in the same room as the carcass.
Though the above was disheartening a second run was moderately better, whilst none of the player-controlled characters died, I did monumentally screw up the Bastion resources which again resulted in failure. The struggle in Siege Survival: Gloria Victis is known right from the get go; your modest castle and city of Edring have been besieged by angry Vikings known as the Ismirs leaving our man Flint as the sole worker to get the city back up and running. The game gives you a pretty in-depth tutorial where you're shown the crafting mechanics and the micromanagement required to make some sort of push back against the invaders, it's also here where we recruit our second character, Bertram, who starts out shell-shocked at the loss of his family and too catatonic to move, you're first tasked with getting him some grub which requires sneaking into the city proper from dusk till dawn to scavenge for supplies.

This is where the snafu on the original playthrough occurred, Flint as limited inventory spaces and everything you pick up has a use at some point, do you grab the veggies for a quick snack to tide over the hunger pains or grab wood to keep a fire lit and build some new crafting stations, further still, do you use said wood and veggies to make big meal that will satisfy you for a day or so at the cost of being unable to build or repair as much during the day.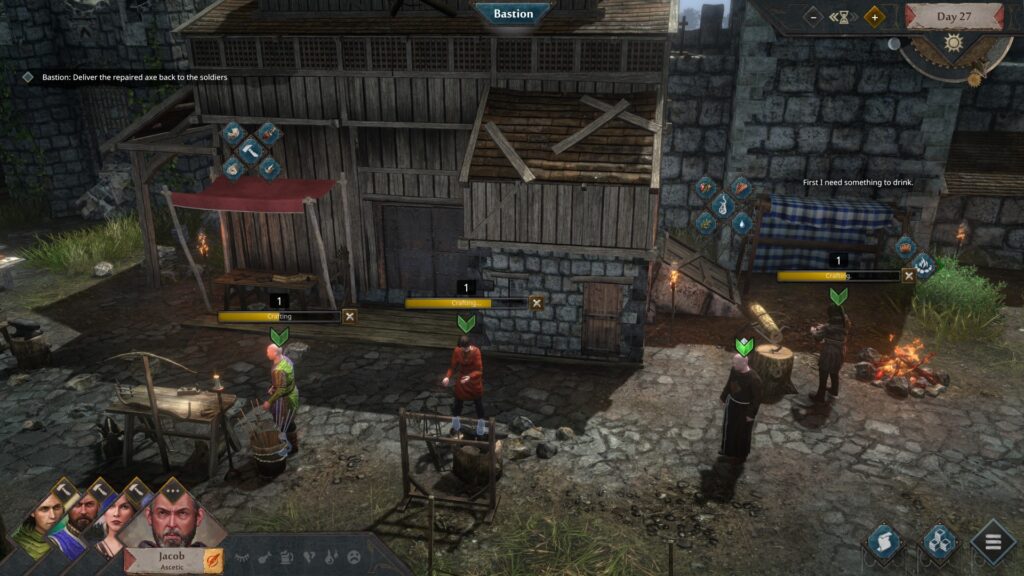 This is the main loop of the game, work during the day, scavenge at night, take too long in your hunt and day comes around you could find yourself at the pointy end of a Viking, same with the looting and moving, a simple left click will move your little chap at a walking pace, a brief white flash appearing at their feet to denote the noise level, this is shown when looting too, a double click will make you move and rummage through the debris much faster than normal but the trade-off is the noise generated is huge and again, you'll meet a pointy end.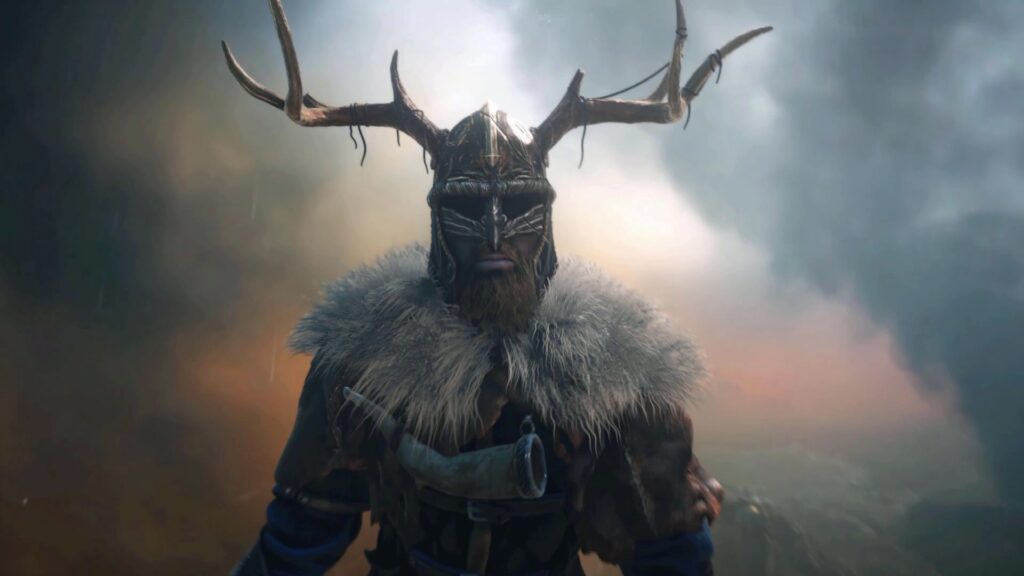 Once we finish our first night and get back, we cook up a tasty meal for Bertram, nothing like a stomach of hot food to help you forget about the death in your back yard as he soon perks up, and we learn he is a handyman, suddenly, another quest marker appears and it's a bloke at the gates to the garrison who informs your that the defending army requires new armour, weapons, food and water to keep fighting, all the things we don't have, joy!

Night two is much the same, we can send out both guys, one to do a little recon and the other to go looting, this time around the looting has more success as a brittle shovel is found, good for one use these can be used to open up new areas and eventually shortcuts around the city, more quests appear where you can be an arse or be helpful, I tried to be helpful as we're all in this siege together you know? Dawn rolls around quickly, and we head back to the city but once we get there, boulders and arrows start raining down as the enemy push their attack, one hits Bertram seriously injuring him which forces me to use one of the bandages I was going to send to the defenders. The battle is played out like a tug of war, resources you spend to increase the bastion's strength edge the finish line closer to the enemy, troop losses lead to morale debuffs that push the enemy closer to you, so finding that balance is key to survival.

Make no mistake, this is punishing, much like other games, like Frostpunk and FTL for instance, you have to try and think multiple days ahead, try to find a balance that will benefit your own folks and the defenders, lack of comfort is just as much a killer as the elements and flying rocks. As the days go on, supplies dwindle in the areas you have been, pushing you into enemy controlled parts of the city, while there is combat, I've never had the chance to risk a fight for fear that I would mess up in some spectacular way, a fear that is well justified given my experiences thus far. Once you have completed the tutorial, subsequent playthroughs can be customised, if you want something less brutal, you can, if you want it more brutal you can do that too, there's also a New Game Plus which is quite handy.
Opinion
As a whole, Siege Survival: Gloria Victis is a fun way to get angry with your own stupidity, it's a joy to look at as the visuals are surprisingly great for a game with such a dismal setting, the musical score is also top-notch conveying the way a prolonged battle would feel. In all, if you enjoy punishing yourself and playing games with quite deep management systems then definitely give this a go, reviews on Steam are currently sitting at Very Positive and there's also a demo available for those who are tempted to give it a shot.