Black Mirror is a story set in an interesting time at DC, Bruce Wayne effectively died during the events of Final Crisis which lead to Dick Grayson taking up the mantle of Batman, a decision he struggled with many times with other writers at the helm. Scott Snyder has a different take, Dick Grayson is much more comfortable and experienced in the role of being Gotham's Dark Knight and more importantly he knows how to enjoy himself, (especially with the gadgets he has access to) this is a much more fun Batman than the usual silent dark protector. The book goes to some very dark places so it's nice to have some levity every now and again.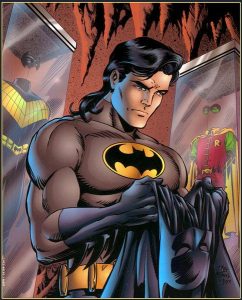 (Ugh, I'm gonna need a haircut!)
Story
This is also one of the most disturbing and engrossing Batman stories I have ever read. Shocks are well earned and given the appropriate amount of time to build tension, with a few carefully placed red herrings to throw you off there are more than a few scenes in this book that haunt me still. The interesting part is Snyder writes a fair few shocking moments the most shocking of all just so happen to not involve Batman. In these moments you know there is no salvation for these people, and you can't help but feel an extra emotion alongside the fear, disgust.
What I liked
There's a particular fondness for Batman rogues like the Joker, among the public practically everyone dressed as him in a nurses outfit after Dark Knight. And a few people  think that his relationship with Harley Quinn is to be desired or emulated, well this book feels like a reaction to that. It is a stark reminder that these people are monsters that we should fear and that not all Batman's villains come dressed as a garish clown. The villains in this tale are generally much more grounded and interesting, particularly James Gordon Jr, it almost feels like he could be Dick Graysons Joker, just a man who had one bad day. It's a theme continued throughout Snyder's run, it's clear he wishes to make Batman's villains more human, to show that even men can be monsters.
There is also the artwork, which is just beautiful for action scenes or the many flashback scenes. It has a real warmth to it, and flows perfectly with the dialogue for the majority of the book, sometimes the artistic interpretation of certain characters does fall a little short though. For example, (and this is just a personal observation and pet peeve) Dick Grayson is supposed to be the most handsome man in the DC comics, but here under the cowl he kinda looks like a potato with lines drawn on it. Apart from this most characters are drawn well and it gives a strong resemblance at times to Batman:Year One, which for me is high praise as this is also one of my favourite books!
Opinion
As I stated earlier, this book is about legacy, whether it's Dick, effectively stepping into his father's boots, or  Tony Zucko's (the gangster who had Dicks' parents killed) Daughter struggling to get away from her father's legacy, right up to Jim Gordon dealing with his estranged son. Each story fuels the next keeping the pace quick, funny, disturbing and heartbreaking.The book itself proves, even at this early stage of Snyder's work with Batman, that he is a fan of the continuity. With characters from Batman:Year One being brought back in this story, and events potentially linking into The Dark Knight returns, makes this book work fantastically on its own and also a great addition to any Batman fans collection.