Spider-Man: Far From Home
Spider-Man has always been my favourite superhero (very nearly superseded by Captain Marvel this year when I teared up leaving the cinema … because girl power). He's an everyman, albeit with a higher IQ than most and access to Stark Industries tech, so it doesn't really matter what guise it arrives in, whether it's animation form in the brilliant "Into the Spider-Verse" or in the shape of Toby Maguire sporting an emo haircut, I have always looked forward to the next Spider-Man adventure.
(Always!)
Spider-Man: Far From Home, released earlier this month, has all of the boxes of a typical sequel ticked – new locations, new suits and new kinds of evil threatening to destroy the world. Picking up right after Endgame, we meet Peter Parker as he's getting ready to go on a class trip to Europe, where he has concocted a plan to tell MJ how he feels and just forget about being a superhero for the summer – though Aunt May helpfully packs his Spidey suit into his suitcase just in case.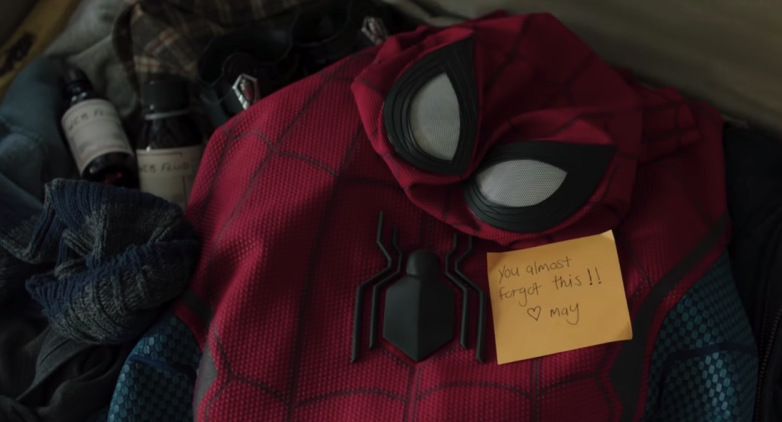 (Hey, at least it wasn't contraceptives!)
Nick Fury on the other hand has different plans in mind for Parker as he enlists his help in defeating the mysterious 'Elementals' sent from another dimension alongside a new hero Quentin Beck, later dubbed Mysterio by Peter's classmates. You really feel for Peter in this film. The guy is dealing with the emotional turmoil of Endgame whilst also contending with the pressure of living up to his hero expectations as Tony Stark's protégé – oh and a new jerk in his class who's out to sabotage his chances with MJ. You can't blame the teenager for wanting to walk away from the giant fireballs and water monsters to be just that, a teenager.
While the action set pieces, which see Peter swinging from one tourist attraction to the next, are as thrilling as ever, the emotional pull in Far From Home is what makes this film so great. Underneath the toppling towers and crumbling bridges, there's a lot of heart to be found in Peter's shy interactions with MJ or the relationship blossoming between May and Happy, made all the more fun by a suitably mortified Peter.
The first re-entry into the post- Endgame universe was always going to be a challenge but Spider-Man: Far From Home manages it well. The film handles the questions around "the blip" (as it's referred to in the movie) with plenty of charm and sensitivity as we see fundraisers set up for those left homeless by the events of Thanos' snap and murals immortalising those we lost, not to mention a cheesy but comic "in memoriam" video that opens the film.
(It has The Spidey Seal of Approval.)
Opinion
After ten years of MCU movies, Far From Home still feels fresh, proving to anyone in doubt, thankfully, there is life after Endgame.