It's officially spooky season. Bring on the movie nights, pumpkin spiced lattes, and repeated promises about topping up the trick or treat stash you swore you wouldn't touch in time for Halloween (probably best just to pretend you're not home). For those of you, like me, who enjoy the pumpkin paraphernalia but not so much the nightmares that come with it, here's a few video game recommendations to get you into the spooky spirit.
For those who like to get dressed up: Animal Crossing: New Horizons
Last year's lockdown put a stop to any hope of trick or treating (that, and the whole being 30 years old thing) so you better believe I picked every bit of candy I could find during Animal Crossing: New Horizons' October event. Pumpkins, costumes and even Halloween themed wooden flooring took over my island and there are a whole bunch of new items to collect this year. I recommend stocking up on sweets every day throughout the month so you've got enough to exchange for items during the main event on October 31st – lest you miss out on bagging that lone piece of pumpkin-adorned furniture and feeling unfulfilled until next Halloween.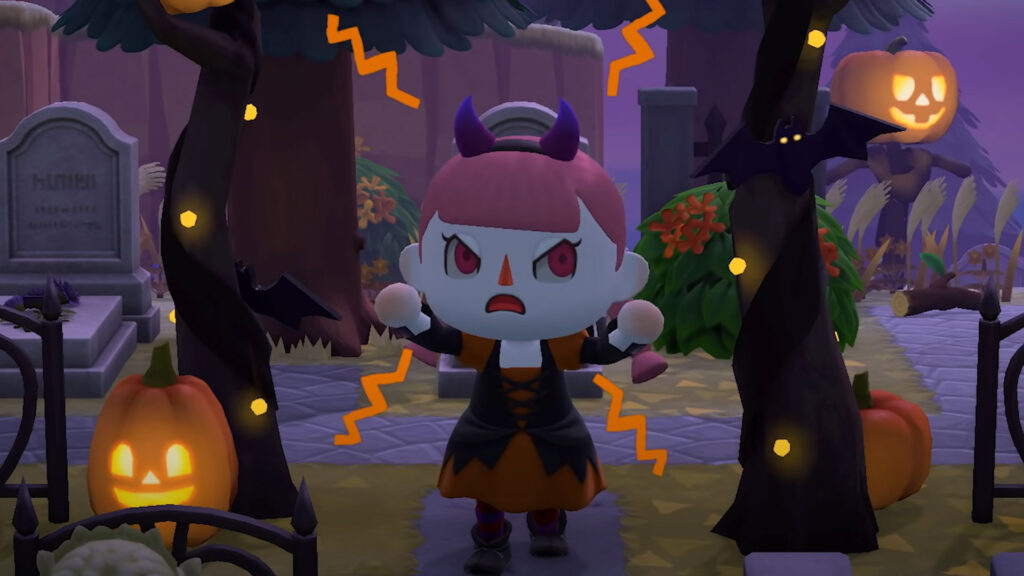 For a (not so) happy Halloween: The Last of Us (Parts I & II)
I've said it before, on paper TLOU is not my thing. It's gritty, miserable and full of zombies but somehow, I find myself drawn to its post-apocalyptic world, overtaken by an infection that turns its victims into mushroom-headed flesh eaters. Yes, it has its share of scary moments (can I get a version of TLOUII without the Rat King, please?) but the story, the characters, the world, the atmosphere, the music, just about everything else this series offers makes it worthwhile taking your hands away from your eyes, shivving a few clickers, and making it to the end. Do it, be brave, and I promise you, the quieter, oftentimes beautiful moments will justify the inevitable sweaty palms.
("SHIT…SHIT…SHIT!!")
For action over terror (…mostly): Resident Evil Village
My surprise game of the year for 2021 is the perfect entry point for any Resident Evil novice. Village brings the horror with its lycans and Lords but it's also just an incredibly enjoyable action game with plenty of puzzle elements to balance out the scares. Come for the Tall Lady, stay for the engaging story, unexpected villains and just the pure fun of being thrown into a world that goes from a castle dripping with opulence to a rollercoaster factory of horrors. And despite that last sentence, I promise you, if I can handle it you can too.
(Mostly…)
For the inner child in you who would rather go trick or treating: Luigi's Mansion 3
If you really can't stomach seeing bad guys getting chop happy with Ethan Winters' fingers, might I interest you in a spooky hotel, anthropomorphic green goo and a vacuum cleaner that sucks up ghosts and money? The third solo instalment for Mario's younger brother sees him on a mission to save his friends from a creepy hotel. It's colourful and fun with each level of the ominous 'Last Resort' sporting a different theme and items to collect, but it's also pretty challenging at times. If you don't feel the urge to throw your controller during the piano section, take another piece of candy.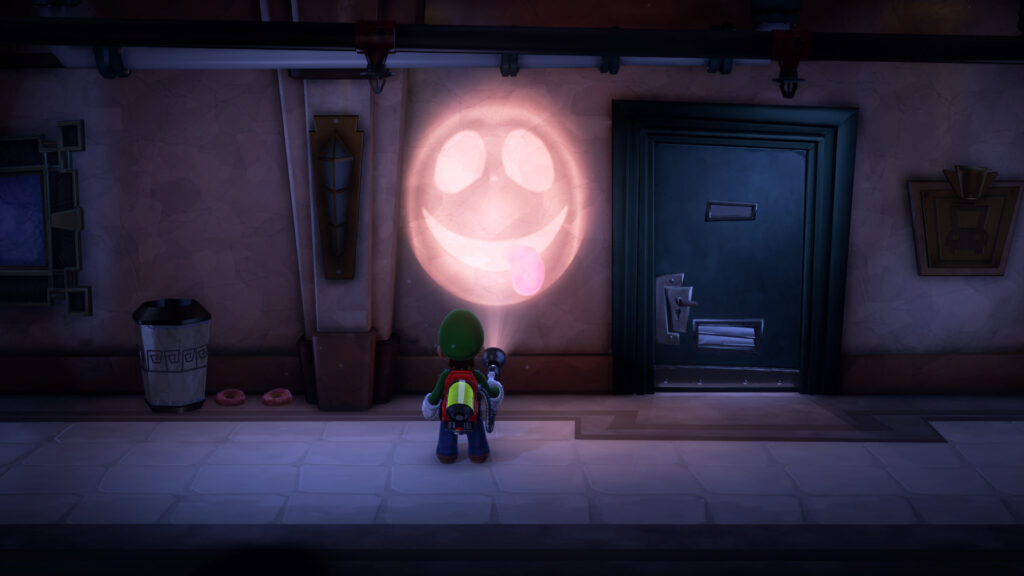 For scares in small doses: Little Nightmares I & II
Equal parts creepy and cute, the Little Nightmares series is just the right amount of spooky to get you into the Halloween mood. These short puzzle platformers follow the journeys of Six and Mono through gloomy and strange environments but don't be fooled by its child-like art style, it can get pretty dark and the chilling characters you come across are memorable for their peculiar and ghoulish quirks. Players less fond of combat will appreciate the emphasis on puzzles and stealth – though it's kind of satisfying to hit a nasty porcelain creature over the head with a ladle.
(Well…I didn't need to sleep anyway!)
For the pure nostalgia: Casper (PS1)
Not exactly a classic but I recently gave the friendly ghost another go after my friend very nearly donated him to the charity shop. It's a simple puzzle game, wandering (floating?) through the halls of Whipstaff Manor, looking for items to complete tasks and open up new areas. For those of you who would rather have Casper as your Halloween mascot over Freddy Krueger, this retro 3D top-down adventure should give you a satisfying nostalgia trip and spare you any sudden scares. Although admittedly, movie Casper can be a bit spooky …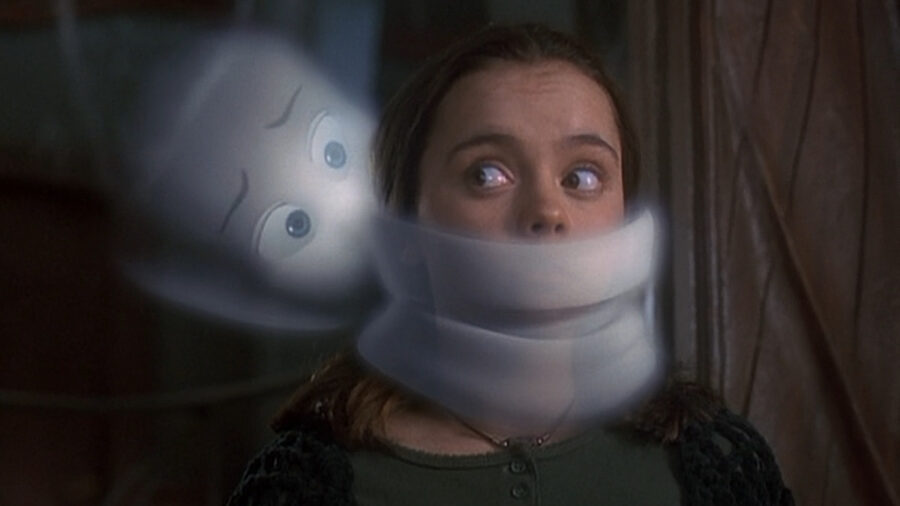 (Luckily "Rule 34" had yet to be established!)
For those in the know: Rugrats – The Mysterious Mr. Friend level (PS1)
Hear me out, the music and horrible crunching mechanical noises in this level are permanently etched onto my brain, and who actually LIKES clowns anyway? While you spend most of this classic (I stand by that) PS1 game wandering around the Pickles' home, playing golf and searching for Reptar puzzle pieces, this level takes you to the basement, which, if you've ever seen anything horror related, you know is never a good idea. Throw in some clockwork clowns, a conveyor belt of them no less, and you've got yourself a scarring experience. "Maybe the world just wasn't ready for Mr. Friend." You can say that again, Didi Pickles.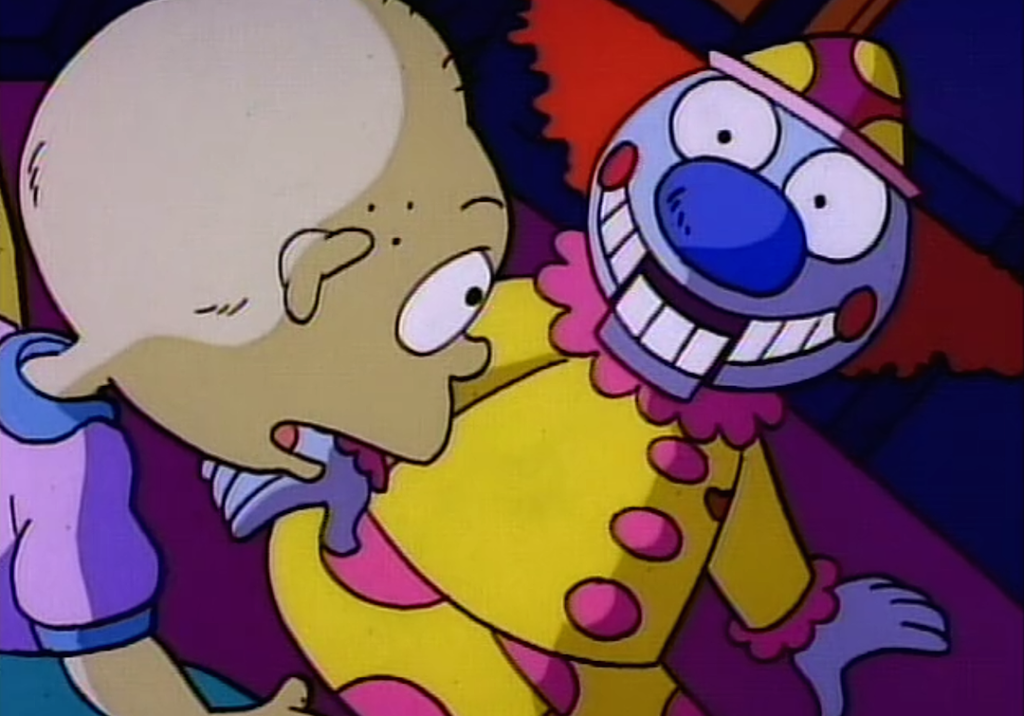 (LOOK AT THIS TERRIFYING MOTHER-F**KER!)
Well, that's our scaredy cats guide to Halloween gaming. What are your thoughts? Let us know in the comments below. Also don't forget to follow us on Twitter, Facebook and subscribe to our YouTube channel and if you're feeling generous feel free to donate to our Patreon, thanks for reading.